Dreams O'Clock is the first half of the tenth episode of season 1 of The ZhuZhus.
Frankie's parents get an emergency plumbing call from Frankie's favorite pop star Jessica Beeker.
Characters
Edit
Broadcast
Edit
In the United States, Dreams O'Clock was originally scheduled to air on November 25, 2016 on Disney Channel, along with its sister episode, Badge to the Bone, but both premiered on January 21, 2017. On YTV in Canada it oremiered 14 July 2017.
the two "best best friends" from the commercial in Friendship Friend-zy are sitting in the front row

even though Mindy Gelato and Cindy Gelato are sitting together behind them, a Gelato doppleganger is visible behind Frankie too, indicating they may be triplets

the third girl (not giving or receiving gift) from the commercials is sitting in third row, behind the Gelatos

there is a flashback of Frankie dancing to the eponymous song in The Shell Game where she destroys her trophy shelf fist bumping
Frankie's doll of Jessica is shown in a pile in the start of If Wishes Were Rainbows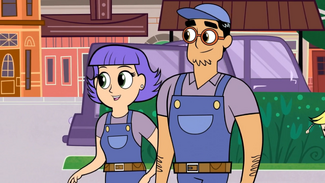 The image gallery for the episode "Dreams O'Clock" may be viewed here.
References
Edit
Ad blocker interference detected!
Wikia is a free-to-use site that makes money from advertising. We have a modified experience for viewers using ad blockers

Wikia is not accessible if you've made further modifications. Remove the custom ad blocker rule(s) and the page will load as expected.