If Wishes Were Rainbows is the first half of the twelfth episode of season 1 of Polly and the Zhu Zhu Pets.
Chunk accidentally uses Frankie's present for Ellen as a letter for the Rainbow Roo.
Characters
Edit
Broadcast
Edit
In the United States, If Wishes Were Rainbows premiered on January 28, 2017 on Disney Channel, along with its sister episode "Deja Zhu".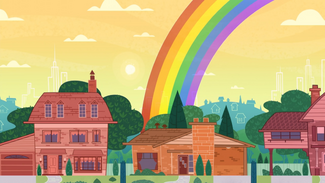 The image gallery for the episode "If Wishes Were Rainbows" may be viewed here.
Chunk to Nums "Just because its raining in thefront yard doesn't mean its raining in the back yard, right?"
The doll from Dreams O'Clock is shown at the start.
References
Edit
Ad blocker interference detected!
Wikia is a free-to-use site that makes money from advertising. We have a modified experience for viewers using ad blockers

Wikia is not accessible if you've made further modifications. Remove the custom ad blocker rule(s) and the page will load as expected.