Rocky is a hamster and a part of the 2017 ZhuZhu Pets franchise.
Rocky's toy set was released on Toys"R"Us by Spin Master for 4-year-olds and up.
Personality
Edit
Rocky is a "cool" laid back hamster who loves rock and roll as much as his hamster wheel. He loves listening to music.
Descriptions
Edit
Toys"R"Us
Edit
Maxin' and relaxin' is even more fun with Zhu Zhu Pets Hamster Rocky! This laid back furball loves Rock n' Roll as much as his Hamster wheel. Check out the guitar-shaped birthmark on his soft fur! When it's time to jam out to some crazy tunes, press the button on Rocky's lower back. He'll take off, spinning and whizzing across the floor! He can even join in press the button on his neck and he'll make cute hamster noises! This cool Hamster navigates spaces easily using the sensor built into his nose. Go backstage, catch a concert or just zone out at home to some totally tubular tunes with Zhu Zhu Pets Hamster Rocky![1]
Appearance
Edit
Rocky has yellow fur and blue hair. He also has a guitar-shaped birthmark.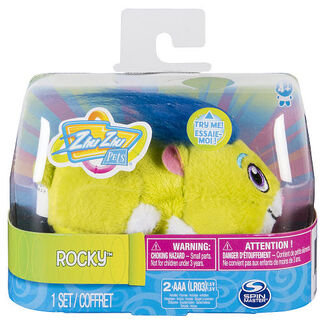 The image gallery for Rocky may be viewed here.
References
Edit
External links
Edit
Ad blocker interference detected!
Wikia is a free-to-use site that makes money from advertising. We have a modified experience for viewers using ad blockers

Wikia is not accessible if you've made further modifications. Remove the custom ad blocker rule(s) and the page will load as expected.