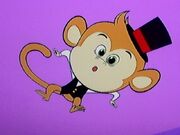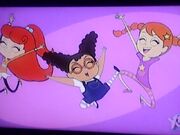 The simian character the Screaming Monkey (as end credits call him) appears in Friendship Friend-zy marketing the Friendship Bracelet Friends Forever Best Bracelet Friends Play Set.
Ellen Pamplemousse calls him "the over-excited monkey".
He has the same voice actor as Mr. Squiggles.
The girls in his commercial are never named.
FBFFBBFPS sharer because she is actually shown giving one of the bracelets to..
Swing Girl (SG) is referred to as such because she is seen in a later episode on a swing. She is the one in the middle with glasses and
twin braids star girl (TB) is named for her hairstyle and shirt
Ad blocker interference detected!
Wikia is a free-to-use site that makes money from advertising. We have a modified experience for viewers using ad blockers

Wikia is not accessible if you've made further modifications. Remove the custom ad blocker rule(s) and the page will load as expected.